Service Pricing – What We Offer
We are equipped to take on your biggest projects!
Junk removal, Estate Clean Out, Light Demolition, Fence/Deck Removal, More…
Northern Virginia, Maryland and Washington DC Certified Estate Clean Out Service
Junk removal and clean out service charges are based on the volume of items removed. The most common way junk removal service companies charge is by the truck load. We use a large 16 ft truck. Other companies truck load fee is for much smaller vehicles so be careful when selecting a provider based upon a truck load fee.
We offer free estimates based on the information you provide to determine if you need a full truck or a portion of a truck and how many workers will be needed. Each of these variables will alter the price quoted. Please note: We will match or beat local written estimates.
How Much Does Junk & Trash Removal Cost?
Cost vary but for a general example, on average, junk removal may cost $95 to $570 with most homeowners spending between $150 and $350 but this naturally depends on what and how much you need disposed and is just an example. Companies have different sized trucks. Mack Hauling uses trucks that typically carry a larger load than others in the area. Get your FREE ESTIMATE today.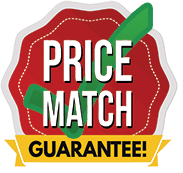 We will match ANY LOCAL WRITTEN ESTIMATE! Give us a call today!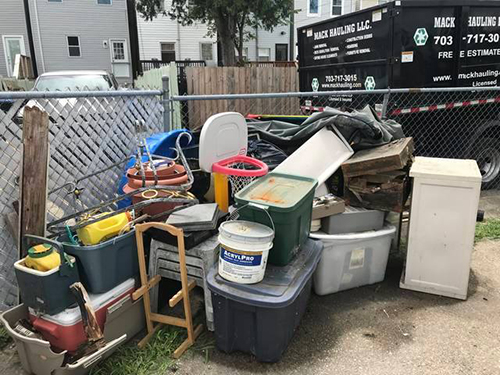 Pricing Factors Include:
Admin cost – bookkeeping, marketing, employee overheads
Commercial drop-off fees
Labor cost per employee
Length of time loading will take
Number of workers required on the job
Return on certain items through sales of scrap metal, etc.
Vehicle operating cost – payments; insurance; maintenance; distance traveled; and stops at the landfill center, recycling center, and charities
What Type of Junk Do You Need Hauled Away?
The type of items needing to be removed will impact the related cost for our professional service. There is a difference in cost when defining "junk." Do you have E-waste, composting, furniture, appliances, or hazardous items? Our basements, attics, and garages often become storage spots for all sorts of items like an old window air conditioner, that old sofa, old tools, ½ full cans of paint, toys and well, just about anything. Some of these items can be heavy, or the sheer volume overwhelming. The value of reducing stress and getting a big, or small job done is tremendous.
How is Junk Categorized?
General Junk Removal – items such as appliances, furniture, boxes, toys, old carpet, etc.
Trash Removal – is typically offered by City or private service providers. We are not a trash removal company.
Hazardous Waste Removal - this would include things like tires, aerosols, paint, old propane tanks, solvent's, used oil, antifreeze, insecticides, batteries, mercury (found in thermometers, switches, fluorescent lighting), bleach, drain cleaners, oven cleaners pool chemicals, wood preservatives, ammunition, guns, explosives, asbestos, or any other "special waste" as defined by local state or federal laws. We do not accept hazardous waste.
Medical / Pharmaceutical Waste Removal – sharps, medication, biohazardous items, dead animals, used bandages, dressings, discarded gloves, medication, etc. We do not accept Medical waste.
E-Waste Removal – electronic items such as clocks, CD players, camcorders, exercise equipment display boards, radios of all types, telephones – cell or land line, answering machines, video game consoles, walkie talkies, televisions, monitors, computers, copy machines, shredders, printers, etc.
Compost Removal – yard debris including leaves, branches, brush.
Construction Waste – this would include items like wood remnants, fence removal, deck removal, shed removal and other light demolition items.
Items like paint, cleaner, oil, batteries, and pesticides contain potentially hazardous ingredients and require special care when being disposed of. Improper disposal of household hazardous wastes includes pouring them down the drain, on the ground, into storm sewers, or putting them in the trash requiring special removal.
What Do We Take
Appliances
Carpeting
Contractor Debris
Electronics
Furniture
Hot Tubs
Mattresses
Office Equipment
Renovation Debris
Scrap Metal
Tires
Yard Waste
What Do Not Take
Medical Waste
Pharmaceutical Waste (Medication)
Ammunition
Weapons
General Household Trash
Hazardous Materials
Complete list of our services.