Appliance Removal Services
We can haul any appliance in Northern Virginia, MD, & the DC Metro Area!
A broken or worn out appliance can be tough to move. Without the right equipment or a legion of helpers, a truck, and a lot of time on your hands, this task just can't get done. Luckily, we have tons of experience hauling appliances of all sizes! Whether you have a broken down refrigerator, or a washer/dryer pair that has to go, we've got you covered.
We're fast, professional, and affordable. We also provide FREE estimates, meaning that you know exactly how much the job is going to cost before we get started. We even donate still-usable items to various charities, including Habitat for Humanity! We also dispose of all appliances in a safe, green, manner. Improper disposal can be harmful to the environment, so you can rest easy by choosing Mack Hauling. Call us today to get started!
Appliances Hauled
Refrigerators
Washers
Dryers
Dishwashers
Stoves
Water Heaters
Trash Compactors
Freezers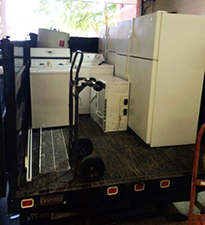 We serve Maryland, DC, and Virginia homeowners, property managers, HOA's, realtors, remodeling contractors, residential and commercial developers, and anyone else who's looking for fast, reliable, junk removal at affordable prices!
If it's not on the list, it doesn't mean we can't haul it!
DC Home Appliance Removal Services | Fairfax Home Appliance Removal Services | Arlington Home Appliance Removal Services | Alexandria Home Appliance Removal Services | Montgomery County Appliance Removal Services