Light Demolition & Removal Services (Deck / Fence / Shed / Out Building)
We provide light demolition services to homeowners and business owners. This includes deck and fence demolition, shed demolition, small barn and out building demolition, and of course we remove all the junk by hauling away in our trucks. From start to finish, we can make old or rotten eyesores disappear.
Deck, Fence & Light Demolition / Shed Removal Services in Northern Virginia. the DC Metro Area Including & Montgomery County MD
Mack Hauling is your hassle free light demolition service provider for all types of outdoor junk removal including decks and fences, including chain link fences, wood fences, and composite fencing. We perform the demolition and remove the debris. We are the local junk removal service provider you can count upon.
If you have a rotting, deteriorated fence, bent and broken chain link fencing, deck, shed, or out building like a shed or small barn, the offending structure can not only be an eyesore, but a safety hazard as well. Unstable structures present a number of dangers to both adults and children. When it comes to removing them, there are a number of options. Doing the job yourself can also be dangerous if you don't have experience with demolition. Property damage and injuries are fairly common consequences of inexperienced do it yourself demolition. The good news is that we can demolish and remove the structures quickly and professionally! We charge less than most general contractors, and we take charge of the debris removal, ensuring that your yard looks like the structure was never there to begin with! And remember, we are bonded and insured!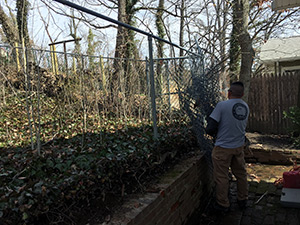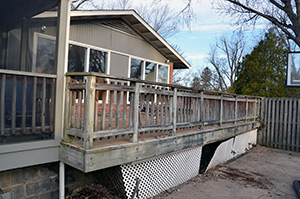 Before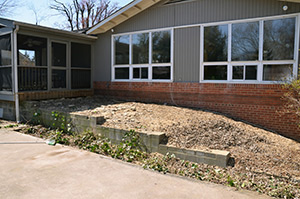 After
Our Process
We start by evaluating the structure. We need to understand how your deck or fence was built, and the structural relationship it has with your home, to ensure that we can remove it without any damage to the surrounding area. Once we have our plan of action, we will demolish the structure piece by piece, methodically. When we've finished demolition, we will haul all of the debris and associated trash from the site, leaving it completely spotless! Complete our FREE Estimate request form now and we will respond quickly.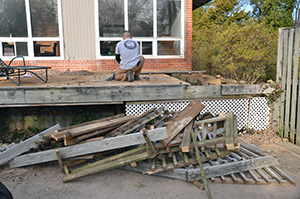 Demolition & Removal
Full demolition and removal of all structures and materials
Removal of all types of fencing: Chain Link Fence, Wood Fence, Composite Fence, Vinyl Fencing
Deck Removal
Deck Demolition
Haul Away Service
Complete area clean-up and debris hauling
Service for both residential and commercial customers including HOA's
Up-front rates and time frame
We serve Maryland, DC, and Virginia homeowners, property managers, realtors, remodeling contractors, residential and commercial developers, and anyone else who's looking for fast, reliable, junk removal at affordable prices!
If it's not on the list, it doesn't mean we can't haul it!
Fairfax Deck Demolition & Removal | DC Deck Demolition & Removal | Alexandria Deck Demolition & Removal | Arlington Deck Demolition & Removal |Montgomery County Maryland Deck Demolition & Removal