Carpet Pick Up and Removal Services
Our carpet removal services include removing currently installed carpet and padding, hauling it out like it was never there.
From Removal to Disposal, Mack Hauling Does It All
An old carpet should cause you concern. They can absorb odors, debris, and even harmful contaminants or allergens. If you've had it with a carpet in your home, you may be looking for the best way to remove it. Removing a carpet that's been professionally installed can be tricky and dangerous if you don't have the right kind of experience. Finding somewhere to dump it can be tricky as well- renting a truck and paying dump fees can be expensive, not to mention time consuming.
At Mack Hauling, we're fast, professional, and affordable. We've removed hundreds of carpets, and we can be in and out in no time! We offer free estimates, so if you don't have the time to do the job yourself, make sure to give us a call. As far as Carpet pickup and removal services in the DC Metro area are concerned, we're number one in price and efficiency!
We serve Maryland, DC, and Virginia homeowners, property managers, realtors, remodeling contractors, residential and commercial developers, and anyone else who's looking for fast, reliable, carpet removal at affordable prices!
If it's not on the list, it doesn't mean we can't haul it!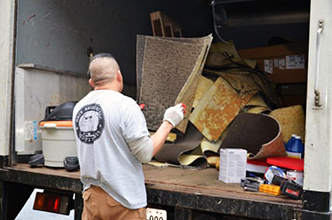 DC Carpet Pickup & Removal | Fairfax Carpet Pickup & Removal | Arlington Carpet Pickup & Removal | Alexandria Carpet Pickup & Removal