Is Someone You Know a Hoarder?
It is not uncommon to have some clutter in our homes, but for some people this disorganization and accumulation of items has taken over their whole house. For people with homes so cluttered they become overwhelming to themselves or others, this can affect their family relationships and raise daily stress levels. Often families are not able to address the situation for their loved one until left with an estate clean up or addressing a foreclosed home.
Complicated and Sensitive Situation
Often, we help clean out homes that could be classified as hoarding situations. Hoarding is the acquisition of large quantities of worthless junk items combined with the inability to discard them. This behavior may be associated with various psychiatric problems, but it is most commonly found in those with obsessive-compulsive disorder (OCD).
When faced with a hoarding cleanup in DC, VA, and MD, having professionals assist you will help not only remove the debris and allow a 3rd party to control the removal process to help keep emotions under control.
We understand hoarding is a sensitive issue. You may not know how to help your family member, but we do. Things to look for in a possible hoarders' home include:
Collection of animals
Compulsive shopping with lots of unused new items still in their original containers
Hoarder no longer allows visitors into the house
Inability to throw anything away, even trash
Keeping broken electronics and appliances
Keeping clothes that are never worn
Living space is impacted – no place to eat or sleep
Newspapers or mail that have been sitting around for long periods of time
Rooms in the home are only used as space to store items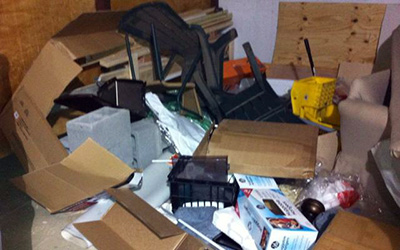 Through these experiences, we have learned how to safely and sensitively use our expertise to help individuals and families step into a cleaner, more stress-free living situation.
Mack Hauling recognizes preventing waste is of particular importance to people coping with hoarding issues. We take every effort to divert useful items from the landfill.
Our professionals will set up staging areas on most jobs involving hoarding cases to sort items from true trash to what can be used. Gently-used items are donated to local charities and recyclable items, including scrap metal, wood, plastic, and electronics, are recycled. However, due to the nature of hoarding, some items may be so soiled that discarding is the best option.
Help for Social Workers, Estate Administrators and Executors
Air quality improvement
Bathroom clean up
Clutter, junk and trash removal
Deodorization by eliminating odor at the source
Kitchen cleanup and sanitizing
Organization, separation, and throw-out help
Partial or total residence clean up
Specialized, heavy-duty decluttering and cleanup for your house or apartment
Urine, feces, waste, and resulting odor removal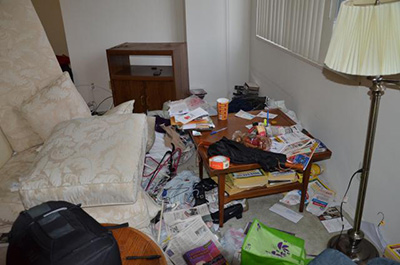 We will address the problems associated with the buildup of trash, food waste, junk, garbage, animal feces, and other problematic waste. Get rid of the clutter now.
Compassionate Clean Up
Some of the symptoms of hoarding, such as indecisiveness, avoidance, and procrastination, can prevent anyone who is afflicted from being able to live in a sanitary, safe, orderly environment. Often, a family member, friend, or social worker must step in with some assistance. When that happens, call upon the junk removal specialists at Mack Hauling.
Mack Hauling is the fast response solution you need for the hoarding situation you are addressing. We will work to help you make the transition to a clutter free, healthy lifestyle change.