Contractor, Commercial & Homeowner Construction Clean Out
When planning to renovate your home in VA, MD, or DC, think of hiring Mack Hauling to do the construction cleanout service to do the cleanup and haul away the construction debris. Our Company has years of experience removing construction debris in Northern Virginia, Washington DC, and Southern Maryland for homeowners and general contractors.
Mack Hauling caters to contractors, homeowners, as well as do-it-yourself builders. By ordering our construction cleanup removal services, you will save time, money and energy. We offer professional service at lower costs than you may imagine with competitive rates.
We can help to prep an area for construction including demolition and removal of small outbuildings, sheds, fences. We can handle a gut out. We knock it down and haul it away!
If you operate a commercial business such as a construction company, remodeling company, roofing company, or have taken on construction projects at home, consider outsourcing the clean-up to the professionals Mack Hauling junk removal services. We clean up construction sites and remodeling areas with attention to detail until the very last shred of debris is gone.
Remodels and Roofers Best Friend
We provide junk removal services for businesses, big or small. Whether you have a few unwanted items in your office or you need an entire office building cleaned out, we can take care of the junk.
Do More Business by Leaving the Clean-Up to the Pros
We lift. We load. We haul. All You do is Call. And we mean it! You won't need to touch a thing. Just give us a call to schedule your junk removal and our team will arrive at your location at a time that is convenient. We provide up-front, all-inclusive pricing as well as quick removal, recycling, and disposal of your unwanted items.
Benefits of using Mack Hauling Junk Removal for Construction Projects:
Ability to coordinate large scale commercial removals
Licensed and insured
Little or No disruption to your daily operations
Off-hour service – including Saturdays
Professional uniformed team members
Removal of junk from wherever it is – You don't touch a thing
You can focus on your business and leave the junk to us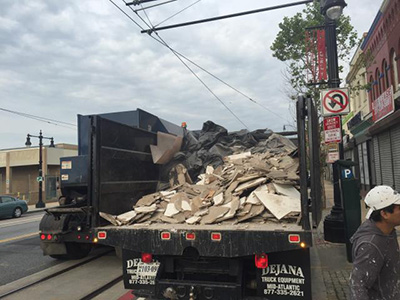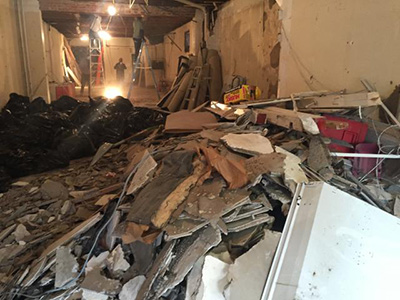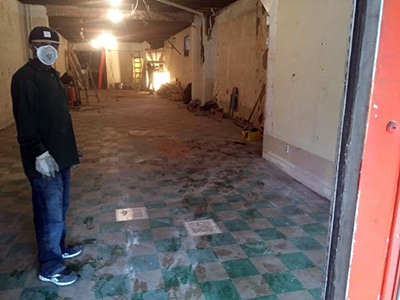 Water Damage?
We offer wet drywall removal, wet sheetrock removal, wet plaster removal, wet ceiling removal, wet wall removal, wet hardwood floor removal, wet laminate floor removal, wet tile floor removal, wet wood floor removal, wet carpet removal, wet carpet pad removal and wet kitchen cabinet removal and wet furniture removal. If it is destroyed and needs to go, give us a call.
Our construction cleanup service knows how important it is to maintain a clean and organized construction site. Having construction debris scattered throughout your property can lead to safety hazards, fines, and angry neighbors.
Hiring Mack Hauling eliminates the hassle of getting a dumpster, running to your local governmental city agency to get the required permit and being charged for it, potentially damaging your driveway or your lawn, and having someone else fill up your dumpster while your sleeping!