Junk Removal Vienna VA Home Clean Outs
Junk Removal Services Vienna Virginia - Hauling trash, yard debris and doing clean out services
Call Mack Hauling for all your junk removal needs. Serving Northern Virginia. Schedule your pick up by calling us or complete our FREE ESTIMATE request. We will get back to you promptly.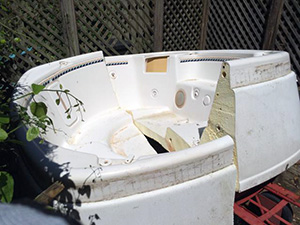 We Get Rid of Junk!
Ready to serve residents and businesses in the Vienna VA with zip codes in the 20180 range. Vienna is in Fairfax county Virginia. Homes near Northside Park, Glyndon Park, Moorefield Park, Cunningham Park, Nottoway Park, Peterson Lane Park, Vienna Aquatic Club, and George C. Yeonas Park. Also Green Hedges, Parkwood, Aldeerah, and near Amphora!
We travel regularly down roads including Maple Avenue, Park Street, Nutley St., Lawyers, Rd., Courthouse Rd., Center St., Malcolm Rd., Cottage St., Wolf Trap Rd., Beulah Rd., Cedar Lane, Marshall Rde., Tapawingo Road, Kingsley Road, Ware St., Blair Rd., and more.
We Do A LOT
Attic Clean Ups
Bulk Rubbish Removal for Apartment & Condo Complexes
Bulk Trash Removal
Carpet Removal & Pick Up
Construction Debris
Deck & Fence Demolition & Removal
Electronics Removal
Estate Clean Out
Evicted Tenant Clean Outs
Foreclosure Clean Outs
Full Service Junk Removal
Garage Clean Outs
Hauling Services
Hoarding Clean Up
Home Downsizing
House Cleanouts
Office Clean Out
Play Set/Swing Set Demolition & Removal
Porch Demolition & Removal
Property Cleanouts
Shed Demolition & Removal
Storage Unit Clean Out
Trash Removal
Tree Debris Removal
Yard Waste Removal
We Take Almost Everything!
Air Conditioner Disposal
Appliance Removal
Construction Debris
Construction Waste Removal
E-Waste Disposal
Foreclosure Clean Outs
Furniture Removal
Garbage Removal
Hot Tub Disposal
Mattress Disposal
Refrigerator Disposal & Recycling
Scrap Metal
Television Disposal & Recycling
Trash Removal
TVs
Useless Junk
Water Heaters
Yard Waste Removal
Call us today or complete our free estimate request form to schedule an appointment for:
Reasonable Rates
Easy Scheduling
Prompt, Reliable Crew